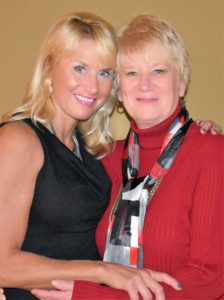 Hi, my name is Kris.  I'm happy you decided to drop by for my tips on healthy living for the body and soul!
The Book
My mother and I started putting pen to paper for our book, Maze of Thorns in January of 2015.  It took us a full two years for my mother (pictured with me) and I to write our book published February 1, 2017.  The book, my faith and my approach to healthy living are all a celebration of life and the gift of faith.  I decided to blog not only to share our story of a family's love, hope and faith, but also to share life lessons I've learned and continue to learn along the way on faith, life balance and healthy living.
Book Overview
In 1997, Kris was a successful, healthy, 26- year-old woman with a nearly perfect life. Recently graduated from University of St Thomas with honors, she had begun her career at a large corporation. Everything was going her way until suddenly her world came crashing down. Kris woke up one morning unable to speak, eat or even write her name. She was in the grip of a mysterious illness that began with disorientation and nausea then quickly escalated to grand mal seizures. This is our family's story, our journey through a very real maze of fear, tragedy and stubborn faith.
Click here for our article in the local paper on April 28th.
For more, go to Amazon.com or BarnesandNoble.com.  If the book touches your heart in some way or helps you through a difficult time, my co-author (my mother) and I would love if you shared with others how it impacted you through a review on either site.
The Blog
My Healthy Angel is about having a healthy mind, body and spirit.  It's about creating a balance, being self-aware when that balance is off,  and having the tools to regain balance and self -love.  My Healthy Angel will touch on lifestyle, food, exercise, faith and provide updates on book events.
In 1997, I was diagnosed with CNS Vasculitis. The link will tell you more, but in short, CNS is an auto-immune response that causes inflammation in the vessels of the brain and spinal cord.  In my case, it was restricted to my brain. Within just a few weeks, I had an absence of short term memory.  Less than a month and I was having grand mal seizures and it was still undiagnosed at that point. It was an illness that left me battling for my life and my family seeking every answer they could find to get me well.  After a brain biopsy, which by a stroke of God's hand revealed the inflammation, I was lucky to be diagnosed and treated.  Even after this the illness had run me down to 80 pounds and the inability to speak or communicate.  My doctors had told my parents to have our family come to say goodbye.  I am beyond blessed to be here today to tell my story in our book Maze of Thorns.  My prayer and my mom's is that our story and this blog will somehow serve God's plan for saving my life.
My Approach to Healthy Living
It's all about balance and being self aware of what makes your heart, mind, body and spirit feel happy and whole.
Does that change through-out your life?  Yes, absolutely it does!
Today, I am all about doing what makes me feel good and whole.   Even right after this illness shook our world, I went back to what I knew, self-love that was success-based.  Nod, if you can relate!  For me that meant, rebuilding my professional career and competing in anything physical from marathons to 10 years of fitness competitions including two pro cards, the last one a Masters Bikini Pro card when I was 42.
I am proud of being able to do that, but I'm more than a thousand times more proud of being at this place in my life where my faith and family are number one.
Now I'm a total yoga girl, weights twice a week, and walking my dog happens every day if not twice a day!  Balance and life have happened and my self-love is no longer driven by worldly as much as gratitude, happiness and asking for God's hand in my future goals, which are even bigger than the goals of the past!
Here's to being great and also knowing our imperfections sometimes show us the path to our greatest light!
Kris
Disclaimer: I am not a certified nutritionist or dietitian or a personal trainer. All opinions shared are my own. Please consult a physician before making any changes in your diet or fitness regimen.