These Vegan Superfood Energy Balls are a delicious and healthy, sweet treat.  Also anti-inflammatory, nobody will know they are healthy! They contain three of my favorite foods – cacao nibs, oats and you guessed it, peanut butter!
Cacao Nibs
Cacao nibs are packed with antioxidants, iron and magnesium and don't have any whole sugars.  Besides this recipe, I top my smoothies with them and put them on my oatmeal and in my homemade trail mix. I use the Navitas brand from Thrive Market also found at many whole foods stores.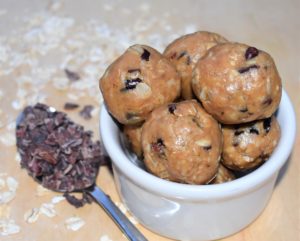 Vegan Superfood Energy Balls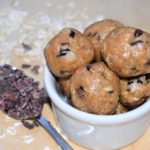 Print This
Ingredients
2 cups whole oats

1 cup ground flaxseed

1 tsp cinnamon

1/2 cup honey

2 tsp vanilla

1/2 tsp sea salt

1 cup natural peanut butter (honey peanut butter is a nice option)

1 cup cacao nibs
Instructions
Spread in greased 9×13 pan and sprinkle cacao nibs on the top. Cover and refrigerate overnight. Cut in squares and roll each square into a ball. Store superfood balls in refrigerator in a covered container. Also can be frozen and taken out as needed.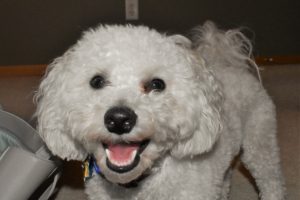 Happy Healthy Eating!
Kris and Louie
Superfood Vegan Energy Balls
Cuisine:
Superfood Energy Balls
Ingredients
2 cups whole oats
1 cup ground flaxseed
Instructions
Spread in greased
Notes
Try this as a snack after a workout!
Nutrition Information
Serving size:
1
Calories:
100
Fat:
4 g
Carbohydrates:
12 g
Sugar:
2 g
Protein:
2 g