Since I went vegan "cold turkey" (no pun intended ha ha!) on August 3rd, I found vegan soup to be a great "go-to" meal I can make in one pot and we can eat for days. Also a bonus, my husband loves soup, so even though he's not vegan, it's something we can eat together and he doesn't feel deprived.
Vegan Soup for the Transition to Vegan-Life
I adapted this recipe to include some of the staples I love and it made my transition to being vegan sooooo much easier.  Other things that made the vegan-life transition easy are The Minimalist Baker , VeganRicha. and Oh She Glows. Even if you're not Vegan sometimes a plant-based meal day can be just what the body needs so try this one out or something from one of these sites!
The Vegan Journey
Since I just went Vegan, legit, 83 days ago, I thought it would be awesome to share a little bit about my journey through the food I eat, the reasons why I went vegan, and the resources I've found to be amazing.  One of my favorite resources is my yoga source. My decision to go vegan came after one year of doing the Boho Beautiful Yoga Series.  Love, love, love these guys and so thankful to them.  Truly this has changed my life.
What's a Vegan to do on Thanksgiving?
Since it is, after all right around the corner…I'm on the hunt for what I can start practicing to make since we are hosting.  I'm sure I'll find something super colorful and pretty nobody will even know it's the "Vegan dish".  That's another reason, I love this soup, it's pleasing to the eye and the tummy.
Yoga and Being Vegan
There is something about Yoga goes hand in hand with simplyfying your life and the food you eat.  What's more simple than a plant-based diet?!  Yoga is a journey, what I love about yoga is whereever you are is right where you are supposed to be.  A year ago, I would not have been ready to go vegan.  My yoga practice has taught me to keep my mind open to possibilities and let go of what no longer serves me.  I'm lighter in body, mind and spirit.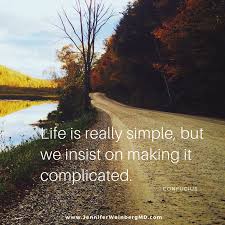 I am so excited to be blogging and sharing my journey and learning from all of you!  Since, I'm fairly new to the vegan-life, I'd love it if you'd share your favorite "go-to" vegan meal in your comments!
Love and Light,
Kris
Vegan Fall Festival Soup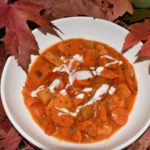 Print This
Ingredients
4 T Olive or Safflower Oil

2 yellow onions (diced)

8 carrots (cut in rounds then in half)

4 celery stalks (sliced)

1 1/2 cups of squash or sweet potatoes (cubed)

4 green onions (slice the green side in for color)

4 cups of vegan broth (depends on how much broth you like)

1 cup full fat coconut milk

1 tsp cumin

1/2 tsp chipotle chili powder

1/4 to 1/2 tsp of sea salt

4 T red curry paste

1 large red pepper sliced in strips then in half
Instructions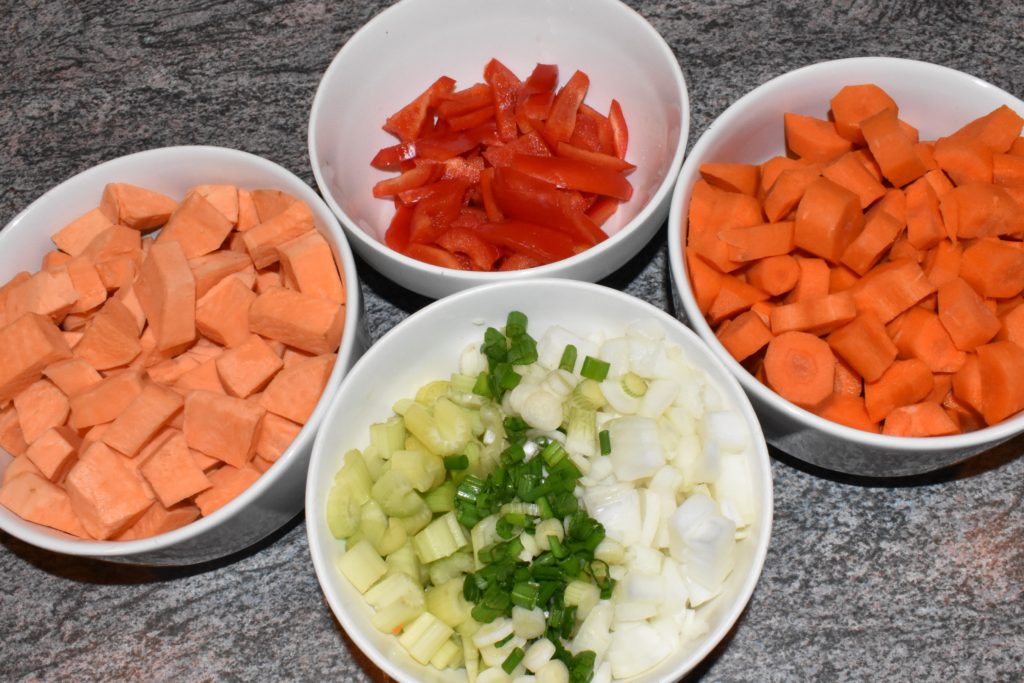 Saute on medium high heat olive oil, yellow and green onion, carrots, sweet potato cubes, and celery for 5 minutes.  Add in 2 cups vegan broth, coconut milk, all spices and curry paste. Cover and cook on medium heat for 30-45 minutes or until  sweet potatoes and carrots are cooked through. Stir occasionally.
Optional Toppings:
Quinoa
Pumpkin seeds
Coconut Cream
Green Onions
Rice Crackers
This soup is so good and so hearty so enjoy! I love it with some Ezekiel Bread spread with coconut oil (Nutiva is a favorite) and oven toasted. Nom!
Food Photo Styling by: Kris Kelbrants and Dani I. Hayes
The Best Fall Festival Vegan Soup