Try this Anti-Inflammatory Vegan Chili recipe the next time you're trying to warm up from a cold day. Thankfully there aren't many left in Minnesota, I'm so dang excited for spring!  It's rich and spicy and will take the chill right out of your bones on those still-cold-winter-almost-spring days.
Five reasons why I love this soup for my vegan diet and anti-inflammatory lifestyle.
1. Vegan Chili is Easy to Make
This is soooo easy to make.  You can make it over the stove or even better, dump everything in your slow cooker.  I've done it both ways.  I made it in a slow cooker when I was having my girlfriends over for book club so it was easy and accessible on the counter.  When it's me and my husband, I prefer to do it over the stove because I love the way the onions taste when they've been sauteed first, it seems to bring out more flavor.
2. Everything You Need for Vegan Chili Is In Your Kitchen
Most of the ingredients in this soup you have at home.  If you don't, once you get in the habit of making soup a "go-to" meal you soon will. I always have carrots, onions, beans, canned diced tomatoes, garlic and all the spices.  The items I just started having as staple items, that you might need to get are coconut milk, chipotle chili powder, vegan broth mix, low sodium tomato soup and my favorite, red curry paste.  Which brings me to my next reason I love this soup.
I looooove this stuff! Since I've been following primarily a plant-based diet since August, I've fallen in love with red curry paste.  My favorite things to put it in are this soup and my carrot squash soup, but I've been known to put it on a grilled almond cheese/Ezekiel bread sandwhich, use as salad dressing and with vegan potstickers.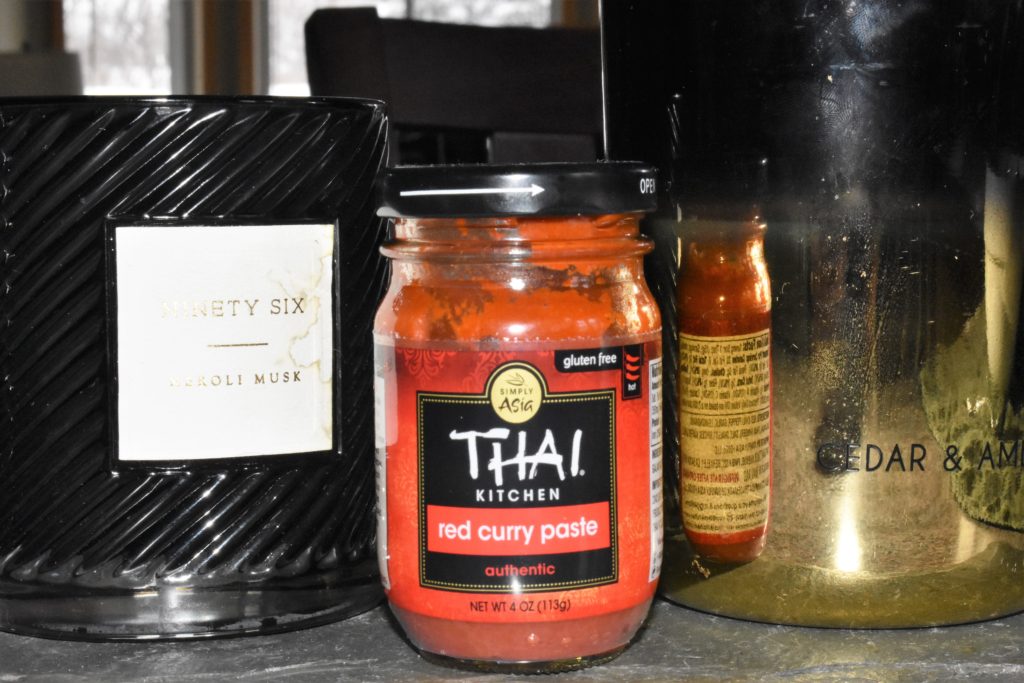 4. Leftovers
Usually when I make this, there is enough for me and my husband for lunch the next day and sometimes two.  I'm not a huge leftover person, so one day is usually enough for me. Since there is just the two of us, I usually like making this when we're having our parents over for dinner or someone else. When I made it for a bunch of girlfriends at book club, none of them are vegan, but they all asked for the recipe!
5. It's Soooo Healthy
Chock full of antioxidants and fiber, this one's a clear winner in the anti-inflammatory category.  After 20 years of living with an autoimmune disease, I decided to try a plant-based diet. It's been a clear winner in keeping inflammation under control. I'm still learning the facts behind why a plant-based diet aids in reducing inflammation but for now, I can tell you my health has been immensely better overall.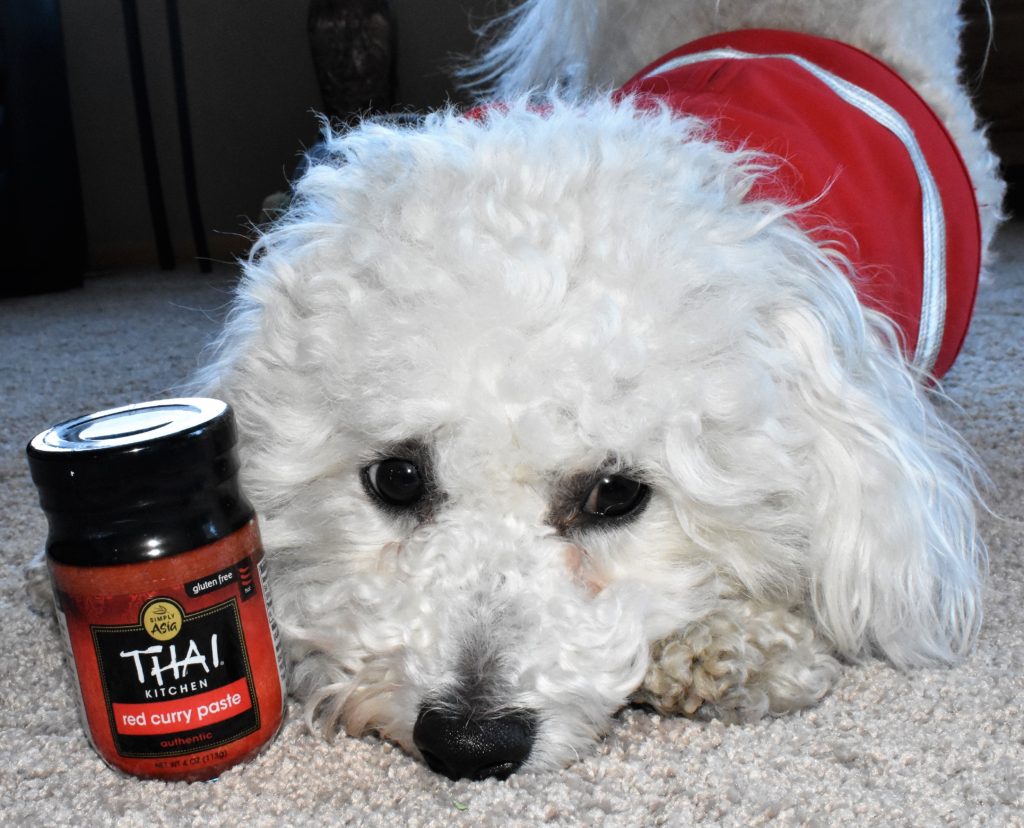 I'd love to know if you tried this Thai Curry Vegan Chili and what you thought?!
Love and Light,
Kris and Louie

The Best Vegan Thai Chili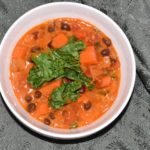 Print This
Ingredients
1 1/2 large vidalia onions or 2 med size (chopped)

2 cloves garlic (minced)

1 tsp chipotle chili powder

1 1/2 tsp turmeric

1 tsp cumin

1 tsp onion powder

3-5 tsp red curry paste (this is what gives it the zing!)

Dash of cayenne pepper

2 containers low sodium organic tomato soup

1 can coconut milk (full fat)

1 cup vegan broth (add if you like it thinner, if just right, can be omitted)

2 cans low sodium diced tomatoes (drain the top juice off)

1 can of each: kidney beans/black beans/great northern beans (drained)

A bag of curly kale
Instructions
Saute onion, garlic and carrots for 5-6 minutes. Next add all other ingredients to slow cooker and turn on high to bring to a slow bubble.  Keep there for 5-10 minutes then turn it down to low and simmer to let the flavors go through it.  This is usually about 30 minutes.  10 minutes before serving add the bag of kale and cover.  It looks beautiful, the kale will wilt on top giving you a great presentation!
Optional Protein-rich Toppings:
Vegan Tofutti Sour Cream
Ezekiel Break Croutons (spread Ezekiel bread with coconut oil and put in oven until crispy, cool then break into pieces)
Nutritional Yeast
Enjoy!