My husband, daughter and I decided to do a "Summer Bucket List" this year.  Summer is only 90 days long in Minnesota so with just 14 weekends, you need a plan!  Us in the Midwest travel to other states in the winter and early spring so we get a chance to enjoy the bliss of our beautiful summers.
Our trip took us 3 hours north of the cities to Two Harbors and then another two hours the next day to Grand Marais.  For a Road Trip like that you need a few core essentials.  The road trip essentials for my daughter and I are:
Twizzlers Pull & Peels (2 bags minimum)
 Slime
Good Tunes (which we sing and "car dance" to)
Books/Magazines
I-phone & most importantly car-charger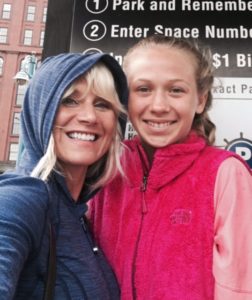 My husband's road trip list is:
Sunflower Seeds
Empty cup
Well, he is the driver so…
Here is a recap of where we stayed and where we played.  We had 2 1/2 days and 2 nights so packed in what we think is the best of the north shore.
Where We Stayed
Aaaaa-mazing resort.  Super friendly people and the view from our room of Lake Superior was incredible.  Every room is a has a lake view so you can't go wrong.  We had booked a dog-friendly room on the first floor, but our puppy ended up staying with my parents.  While we were sad not to have him, he's not yet trained and ready for the hikes.  We decided to move to a room higher up and the view was definitely better.  I'd recommend at least the 2nd floor.
There are a few places to stay once you're there – the Main Lodge, Burlington Bay or the Lakehomes.  We stayed in the newer part of the hotel, Burlington Bay.  It was gorgeous.  All woodsy interior and cabin decor complete with the stone fireplace and all wood interior.  I even have a nasty bruise on my knee from the all wood bed frame on the gigantic king size bed.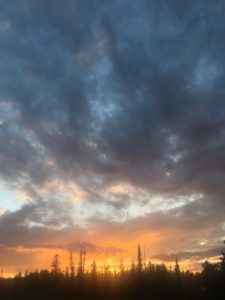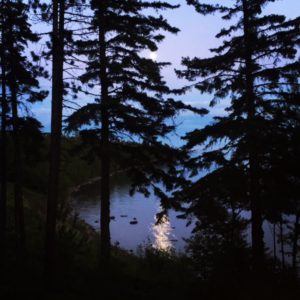 Where We Played and What we Did
On Day #1 we drove straight to Gooseberry Falls. Gooseberry Falls State Park is #1 on the list of things to do in Two Harbors.  There is an upper, middle and lower falls of the Gooseberry River.  My favorite part of Gooseberry Falls though wasn't the actual huge waterfalls, but the hike that follows the river to Lake Superior.  It's a gorgeous hike with beautiful cliff top views, wildflowers and butterflies all along the way,  then opens up to the immense lake.   Breathtaking!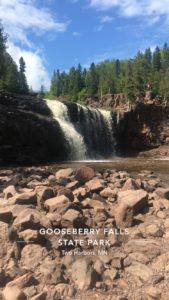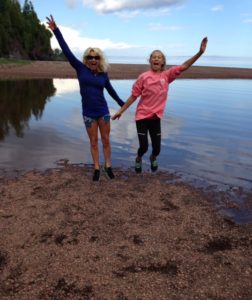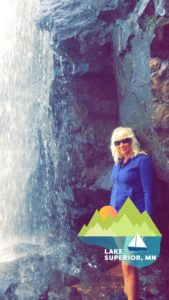 Did I mention the second weekend of July is Heritage Days in Two Harbors?  We did not plan it and purely lucked out that there were festivals in both Two Harbors and Grand Marais the weekend of our north shore adventure.  After the trip to Gooseberry Falls, we checked into our place, enjoyed the view for a bit then made our way downtown for something to eat, famished from our hike.  The evening street band was fantastic, but the true winner was….the helicopter ride!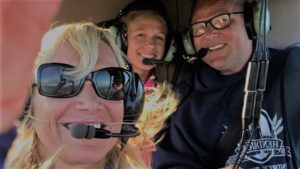 On Day #2, I woke up and did a little yoga then hopped into the indoor outdoor hot tub at our pool before my husband and daughter woke up.  Then we drove two hours to Grand Marais for our two adventures of the day.  The first one the Grand Marais Arts Festival.  Who knew Grand Marais housed the Grand Marais Arts Colony and this year was the 27th annual Grand Marais Arts Festival that the Arts Colony organizes?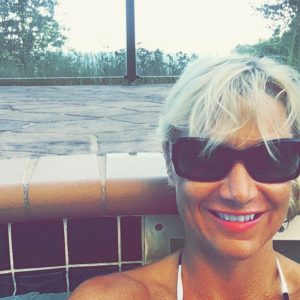 Over 70 local and regional artists set up shop right alongside the shimmering Lake Superior.  If you close your eyes and listen you'd think you were in Mendocino County, Northern California along the ocean with the sounds of the seagulls and waves.  The festival features beautiful hand-crafted work and amazing street fare to nosh on while you walk along and enjoy.  Next stop….
The Judge C.R. Magney State Park is the #1 thing to do in Grand Marais, better than Grand Portage even, and home of the infamous Devil's Kettle Waterfall.  Who can resist a waterfall, and even more who can resist one called "Devil's Kettle".  I thought I have to see that!  In my mind I was imagining a cauldron, but oh yeah, that a witch, not a devil. Whatever.
Amazing hike, about a mile to Devil's Kettle, great workout on 179 stairs.  You go down the stairs then you're in for a real treat on the way back with 179  stairs to climb, good for the leg workout!  Half the river plunges 50 feet into a pool, the other half goes into a huge pothole (aka the "kettle").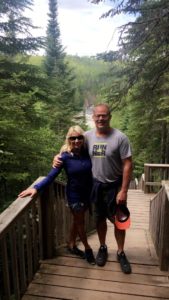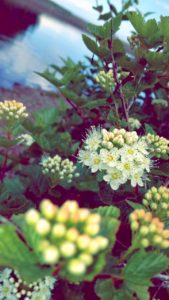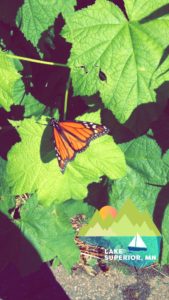 I hope you get to travel to the North Shore, time to go, dog needs attention!