Here's a step-by-step process to help you define the 2018 goals that are aligned with your body, mind and spirit!
This goal setting exercise has you first reflect on last year.  By reflecting on the things that stand out to you the most, you'll see what made you happy and had the biggest impact on your life.   I'm thrilled to have reached my goal of publishing a book,  Maze of Thorns, with my mom this past year and creating my website.  However, spending time with family is another large focus.  It was a major milestone to be with my Mom through breast cancer especially when she got her bill of good health.  On the fun side of my goals, it was a full on celebration when my husband I took my parents to Mexico in December.
1. Review Last Year's Memorable Moments and Successes
Practice self-love and make this easy on yourself.  Don't plan on coming up with everything from last twelve months in one sitting (maybe some of you can do that, not me).  You might keep a sheet of paper handy and jot down things as they come to you. Or find a time when you do your best thinking – like I journal first thing in the morning.  You could even imagine you were sharing your most memorable moments with someone.  What would you highlight from the past year?
My List of 2017 Memorable Moments and Successes:
Mom and I published our book, Maze of Thorns,  I created and branded my website and found my niche. On a more somber note, my Mom was diagnosed with cancer in the summer. We kicked cancer's butt and are now paying more attention to everyday health including yoga (even my Dad) and clean eating.  Throughout the year, I advanced my yoga, decided to get more sleep and took DLSR camera classes plus started following a great photography blog, Digital Photography School.  On the fun and adventure side of things, we took a family vacation in Minnesota North Shore and the year ended the year with a great vacation in Mexico and relaxing Christmas.
2. Break Goals into Categories
Next, break your goals into categories. My categories below include my 2017 Memorable Moments and Successes – Adjust or add categories to what fits your life. I've always like Zig Ziglar's approach and modified it to fit my life and values.
Family
Spiritual
Health/Physical
Work/Career
Financial
Mind/Intellect
Charity
Adventure/Fun/Trips
3. Put it On Paper – List A Goal for Each Category
Now it's time to get to writing. My advice, write what comes to mind or you'll forever procrastinate.  It can evolve, but what's important is to get it down on paper.
Examples of my 2018 Goals:
4. Prioritize
Next, go back and review your list.  Set a timer because work expands to to time we give it.  What are the top 3-5 goals that would impact your life the most.  This is where the reflection you did first helps you align your goals with your values.  Here are mine: 
Blog $500/month; 5,000 unique visitors
Yoga Training
Write Book Proposal for Hay House for Maze of Thorns
Calculate 401K Annual/Long Term Goal 
5. Build a Weekly & Monthly Plan for your Top Goals
List out what you will do to accomplish those goals. For some goals their might be a daily task, for some there might not.  For example, my goal of making $500/month on my blog has daily tasks associated with it.  Our family's financial goal of reaching our retirement income goal, has more of a monthly goal that rolls up annually.
Tip – One motivating way to follow through on your goals is get a great planner.  I'm loving my Passion Planner.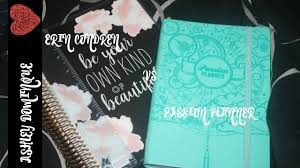 6. Check Back, Adjust, Celebrate
Do a recap at the end of each month.  Review what you accomplished. Re-prioritize and build your game plan as necessary.  Remember to write it out!  Written goals as proven to be much more successful, there's even a Harvard Study.
Celebrate successes, even the small ones and remember to achieve greatness, you need to rest and play sometimes too!  Try not to plan out every second because you need time to recognize opportunities that come your way.  Remember, "whereever you are on your journey is exactly where you should be".
Love and Light,
Kris