There's nothing better in spring than a kale berry antioxidant salad! Not only does it bring a pop of spring-time color, but it's also full of antioxidants and vegan (without the cheese added).  This salad is amazing for fighting inflammation because of all the healthy ingredients.  Here are the top five antioxidant-rich anti-inflammatory ingredients.
1. Antioxidant Rich Berries
Berries are pretty much the star of the show in this recipe – my loves! I usually start my day with a green juice and berries.  All fruit is great for the anti-inflammatory properties because of the low calorie, high antioxidant value, but berries steal the show because they contain flavonoids called anthocyanins which give them their amazing color and suppress the inflammation that leads to disease.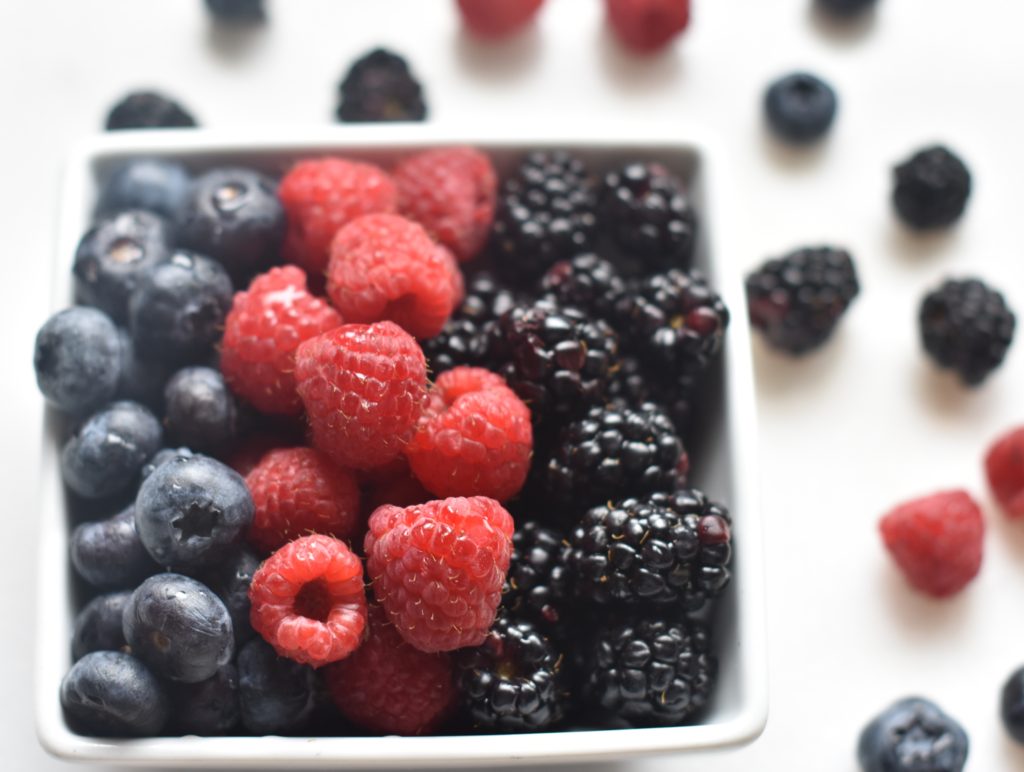 2. Green Leafy Vegetables
Dark green veggies like kale, spinach, broccoli and more all are excellent sources of Vitamin E. Studies have shown vitamin E may play a key role in protecting the body from pro-inflammatory molecules called cytokines, which are cell signaling molecules that aid cell to cell communication in immune responses and stimulate the movement of cells towards sites of inflammation, infection and trauma. Dark greens also tend to have higher concentrations of vitamins and minerals like iron, calcium and disease-fighting phytochemicals.
3. Onions and Garlic
These guys are known for their immunity-boosting properties. Onions contain anti-inflammatory agents, such as the quercetin and allicin, which breaks down to produce free radical-fighting sulfenic acid.  Garlic is pretty amazing on its own, with similar anti-inflammatory chemicals.  Garlic has even been known to work like pain medications by shutting off the pathways that lead to inflammation.
4. Extra-Virgin Olive Oil
My doctor says, one of the best ways to reduce inflammation is follow a Mediterranean Diet so Hello EVOO! Although all of the phenolic compounds in EVOO have known beneficial effects, one specific compound in particular, known as oleocanthal, has the most powerful natural anti-inflammatory benefits. Oleocanthal exhibits the same anti-inflammatory response in the body as NSAID ibuprofen, blocking inflammatory pathways and decreasing the inflammatory response, but of course, it's all-natural.
5. Nuts
Pecans, almonds, hazelnuts, and peanuts are all excellent sources of vitamin E which protects the body from free radicals and lowers the levels of inflammation-causing molecules that circulate in the bloodstream (cytokines).  Nuts are also a good source of polyunsaturated and monounsaturated fats, which lower cholesterol and are a good source of protein. Some nuts are also high in alpha linoleic acid (ALA), a type of anti-inflammatory omega-3 fatty acid.
Try this salad and check out my article on inflammation fighting lifestyle choices!
Love,
Kris and Louie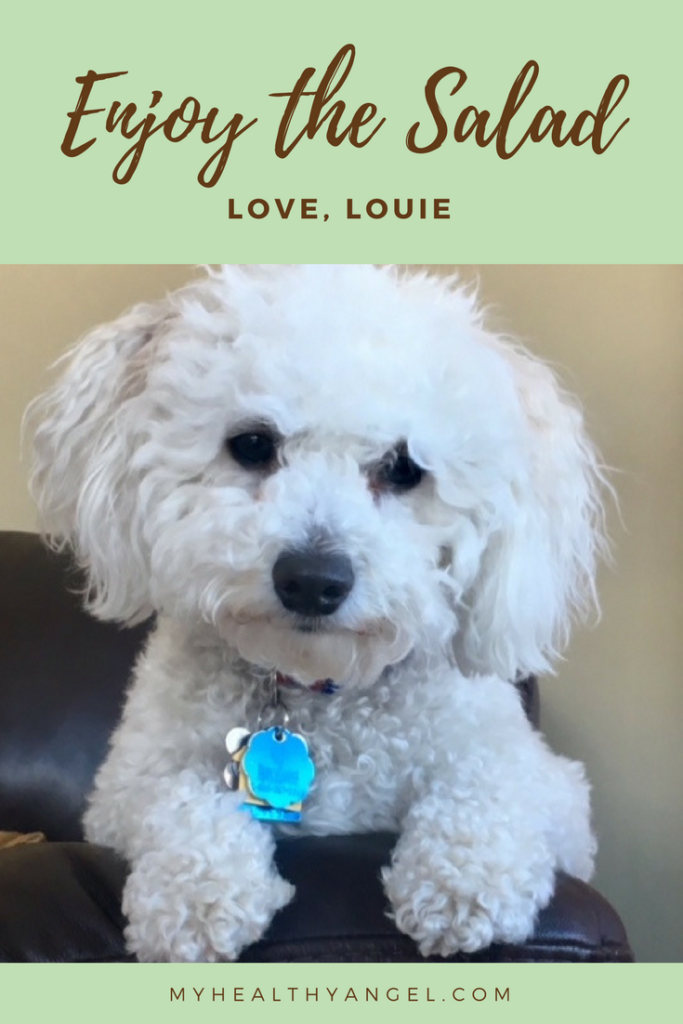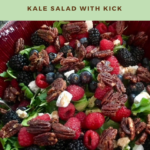 Print This
Ingredients
3 cups baby kale

2 cups arugula

1 (6 oz) package raspberries, blackberries and blueberries

1 avocado (diced)

1/4 red onion thinly sliced

2 cups spicy pecans (recipe follows)

Optional non-vegan addition - 1/4 cup crumbled feta or goat cheese

2 cups pecans

2 T butter

3 T dark brown sugar

1/2 tsp cinnamon (good quality)

1/2 to 3/4 tsp cayenne pepper

1/4 tsp cumin (optional)

1 tsp kosher salt

1 1/2 T real maple syrup

1/2 cup extra virgin olive oil

1/4 cup balsamic vinegar

2 tablespoons honey

2 teaspoons Dijon mustard

1 clove garlic minced

1/2 teaspoon salt

1/4 teaspoon black pepper
Instructions
Prepare Spicy Pecans first to give them a chance to cool.
1. Preheat the oven to 350 degrees. Prepare a baking sheet by spraying the foil with nonstick cooking spray. Spread the pecans on the baking sheet and toast them in the oven about 10 minutes. Stir every 3 or 4 minutes.
2. While the pecans are toasting, prepare the coating mixture. Microwave the butter in a large microwave-safe bowl until melted. Stir in the brown sugar, maple syrup, cinnamon, salt, and cayenne.
3. Pour the hot pecans into the coating mixture being careful not to burn yourself. Stir until the nuts are evenly covered.  Wipe clean the pan with a paper towel, lightly re-spray and pour the nuts in an even layer into the pan. Bake another 8-10 minutes.  Let cool then break apart into pieces (try not to eat it all during this step!).  Tip: I usually make a double batch of nuts and store then in a plastic container.
4. For the vinegrette,  place all ingredients into a mason jar, place lid on, and shake until well combined.
5. Next, the salad, clean the lettuce and put half the lettuce into the mixing bowl.  Lightly drizzle some of the dressing, then sprinkle some of the avocado.  Top with the rest of the lettuces and top with the rest of the avocado and berries. Lightly drizzle with as much of the viniagrette as you'd like.  Very lightly toss with large salad tongs.  Top with pecans and enjoy!